Why Hindi does not became a National language
Read this article on Why Hindi does not became a National language by Astitva and if you don't like post or discussion on Hindi should be our National Language then we will suggest you to jump to other articles or stories, and share your valuable comments in the comment section below. If you like this article then comment as much possible to motivate our authors.
English is an international language, the next commonly spoken language is Hindi.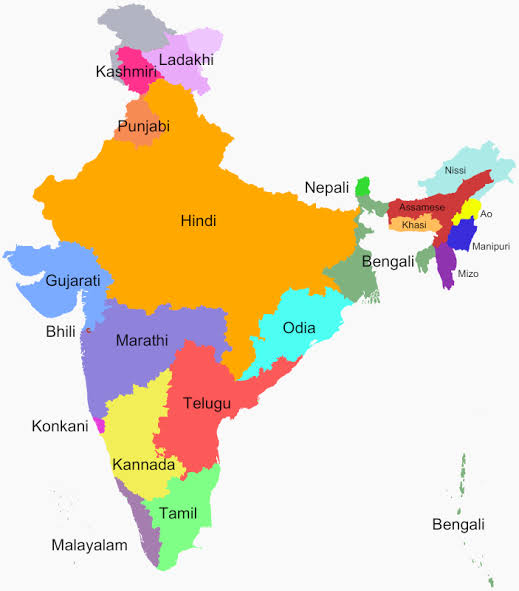 The south has nearly 4 to 5 states but we are so divided that we cannot even communicate with each other in one language.
If we spoke or wrote in Hindi, the entire north of India would understand it!
Do you think Hindi is our mother tongue?
Gujrat , Punjab , Haryana , Bihar , UP etc you name any state they have their mother tongue. Different from other languages is not at all Hindi.
A single state Bihar has 5 different dialects.
North – east India has so many dialects and tribal language but still Hindi is most commonly used among all of them .
So from the above information 
North-India means : Hindi
South-India means : ????
And firstly , what is South India and North India? Why are we so divided? We all are one nation. We divided the Southern and Northern part of Bharat geographically .
It is not divided as North India and South India.
Yes we speak multiple languages but let's have one common language.
But in this case hear rises a fight :
Let's make Tamil common 

Let's make Hindi common

Let's make Kanada common 
To settle this issue the state government has to transfer all their funds invested to the well being of farmers and poor people to settle this language dispute.
After all, if you learn the language , if you watch some Hindi movie and engage yourself to some Hindi speaking people definitely you will learn Hindi in just 15 to 30 days.
After all , this is our concern not to make it a political issue. and not to boycott any language.
But there are some people from the south who oppose Hindi.
Why did these people get lost in the forest and join the tribal group? Because the tribe has no language disputes. 😤😤
Now why are they opposing Hindi, they are not opposing English why?? 
So according to them speaking English is not against their culture but speaking Hindi is against their culture .
What the fu*k is this!!!!😤
Atleast Northern part of India is united by one language and everyone can understand it but in the south 5 state cannot come together to select at least one common language.
All this because our own mentality to boycott other language then some stupid argument from people that :
I love my language ………!! My language is the oldest language…….!!
But everybody is missing that who tells you to stop using your mother tongue completely . You love your mother tongue but respect other languages especially if you are social and learn a common language which is largely spoken in a country . 
For example : our PM- Modi ji is Gujarati, so if he starts giving his all speech in Gujarati so how many of us will understand it.
So you know, why South India is away from Hindi
Let's take the example of Tamil Nadu and Kerala. Most of the people watch local news channels which are in control of the state government. They can easily manipulate and spread propaganda, and most of the poor class cannot understand it .
Why Hindi is important because all the major news channels are in Hindi :
Republic Bharat 

Zee news etc
In Fact in our school we saw Hindi as an optional subject and English as a compulsory.
Why??!!!!!!
And India has no national language but it ha official language as an English and Hindi.
Why??!!!!!!!
Stay tuned for more amazing stories, poems & articles like this.
For sponsor any article or your article you can mail us with your logo ready and details and do comments in the comment section below.
Note: If any of you don't feel like this post suits you so, it is just a personal opinion and kindly switch to other post and different person have different personality and opinions. So, take this post lightly.