And She Never Came
Read this fiction based short-story And She Never Came Hitesh Saini and share it with your friends, and don't forget to share your valuable comments in the comment section below to motivate and appreciate their amazing work.
"Hey, babe are we gonna meet today?" I called her. " yaa, sure I will be there in 30." She replied.
I and Nisha met at the very beginning of our graduation in engineering and fall in love. It's been four years and still feels like yesterday. We loved each other so much, the whole college knows the unbreakable bond between us.
That was the day when our graduation was completed and we were all going to jobs or homes. I got a job in Bangalore. The next day I had a flight.
So we decided to meet before being apart from each other.
I was happy about the job but I didn't want to go far from her, neither did she. I was waiting for her in a cafe, I was smiling and missing the love we shared.
Looking at the watch, again and again, time was a turtle every minute felt like an hour but she didn't arrive, she was late that day. I thought maybe I was stuck somewhere and trying to call but she didn't pick up. hours passed now my heartbeat became fast and an ocean of thoughts attacked. I texted her but not a single response, I called a hundred times but still the same.
I called her friends but not any update from them. I kept telling myself she is coming. I was worried like hell, Her phone was now going to switch off. I called thousands of times but nothing. I was helpless, I kicked my bike and reached her hostel but she was gone. I arrived at the cafe again but she wasn't there. I was unable to breathe and felt like a fish needs water. Keep asking where is she, where is she. I waited the whole night there but she never came…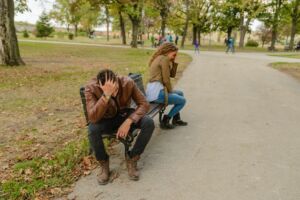 The next morning I had to get my flight to Bangalore. I reached Bangalore and joined my job. I called her daily but no sign, still her number went off I called her friends so many times but they also didn't have anything about her.
Six months gone still every day I thought about her.
And still helpless to find news about her, I felt like I was a fish in an aquarium at the end of the day still in the same void, same emptiness and just nonentity, I decided to go to her hometown that was the last option to find her or something about her.
I took the train and reached Haldwani, her hometown but I didn't know where her home was. After wandering for 4 days I found her address but no one was there. The home was locked neighbours told me that they shifted to Dehradun. I was hopeless again and nearly tired to find her but something inside me keeps telling me one last time at least to see her, so I headed to Dehradun luckily I had a friend there, I stayed with him and started to search for her. I couldn't let her go like this. I need an answer to why she did this to me.
One week passed no sign of her,
"Don't be stupid, she left you, she living her life somewhere, why you keep clawing old wound". My friend Sumit said.
"You Right bro, but how could someone do this to a four-year perfect relationship?" I replied in a tropical voice.
" Ok, you have 2 more Days then you are going back to your job ok?" He asked in anger. "Fine" I replied.
I tried to find her every possible place but not a single lead. It was mid-day and after wondering, I stopped at a coffee shop to eat something.
I ordered a coffee and a plate of dal and rice. That was the better and cheap food for a single person.
I sensed a group of girls entering that shop.
And I was suddenly unable to eat even a bite, my whole body froze. That was her that was my
Nisha. my eyes were refusing to believe that was really her. A bombardment of emotions and heaviness I felt on my heart.
I was unable to move because she was busy talking with her friends. I made myself move and the very next moment I was standing in front of her, she saw me her mouth left open and tears started rolling down on my eyes. I wasn't proficient enough to say something to her just tears, and so she was, her eyes were wet she held my hand and took me somewhere in private.
"Why?" I managed to ask.
She just cuddled me.
"I am so sorry, I am so sorry," she whispered while screaming.
We both were crying out and she kept saying sorry nothing else.
"How are you?", I asked while wiping out her tears.
"How would I be without you?", she replied.
"I am here now, I will kill you if you try to do that again. You are the only one I have.", I uttered. "I lost you once not again," she said.
I looked into her eyes and said "I love you so much",
"I love you too," she replied.
I kissed her on her lips and asked," Will you marry me?"
"Hell yes," she replied and kissed me back.
Stay tuned for more amazing stories, poems & articles like this.
For sponsor any article or your article you can mail us with your logo ready and details and do comments in the comment section below.