Federalism Notes by Vibha Maam
What is federalism?
Federalism is a system of government in which the power is divided between the union and the provinces. Usually it has two levels of government.
Federal Government
Power is divided between the Central authority and various constituent units of the country.

Different levels enjoy power independently.
Unitary Governmen
t
One level of government

No division of powers

Subunits are subordinate to central government

 
Features of Federalism
Two or more levels of government 

Each tier has its own jurisdiction in specific matters of legislation, taxation, etc.

Existence and authority of each tier is constitutionally guaranteed 

Changes by consent of both the levels of government 

Independent judiciary 

Financial autonomy 

Dual objectives
Two routes of federation
Coming together federation and holding together federation 
Coming together federation – States come together to form bigger units like USA, Switzerland, Australia 
Holding together federation –  Large country divides its power between the constituent units like India, Spain, Belgium 
Features of Indian federation
Three list system – Union list (defence, foreign affairs, banking, currency)
State list (police, trade, commerce ,agriculture) and 
Concurrent list (education, forest, marriage)
Residuary list (computer software)
Independent judiciary

Two third majority needed to amend constitution in parliament

Three tier of federalism added in the form of Panchayats and municipalities

Central government has special power in union territories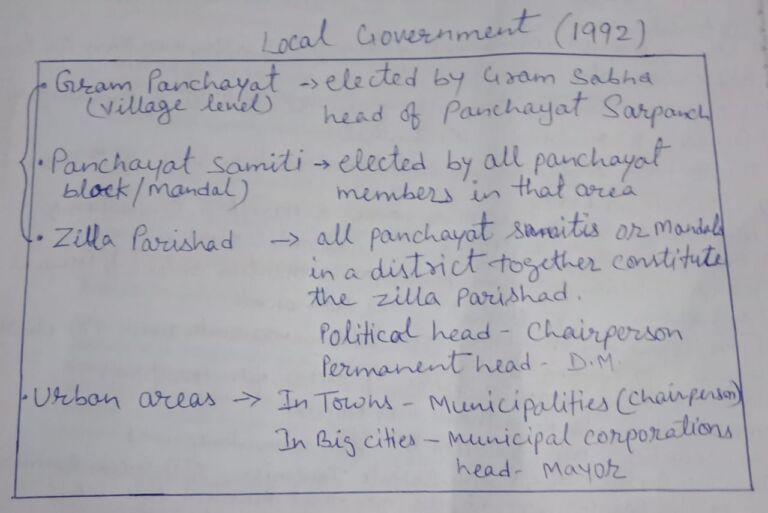 Federalism practised in India
Linguistic States – Based on cultural, ethnicity or geography
Language policy – No national language, 22 •scheduled languages, Hindi and English official languages
Central state relation – Rise of regional parties, coalition government at Centre
Decentralization – Decentralise power to the level of villages and towns.
Decentralisation in India
Constitutional Amendment Act 1992
Local self government on
Rural level :- Panchayats
Urban level :- Municipal corporation and committees.
Constitution amended to make the third- tier of democracy more powerful and effective by
Mandatory regular election 

State election commission 

Seats reserved for women's and SCs / STs

Share of revenue with local governments.