Checkout handpicked notes of NCERT Class 10 Pol Science chapter 1 notes – Power Sharing by Vibha Madam, and don't forget to share your valuable comments in the comment below to motivate our author.
Definition of Power Sharing
Power sharing means sharing the responsibilities and powers among the different organs and levels of government
It is a strategy of resolving disputes over exercising of powers.
It is a powerful approach to unite the diversities.
Comparison of allocation of power sharing between two Countries
a) Belgium – Community government
Results as peaceful solution of tension.
b) Sri-Lanka – Majoritarianism 
Results as Civil War and Economic crisis.
Ethnic composition of Belgium
Dutch speaking 59% in Flemish region.
French speaking 40% in Wallonia region.
German-speaking 1%
In capital city Brussels
French speaking 80%
Dutche speaking 20%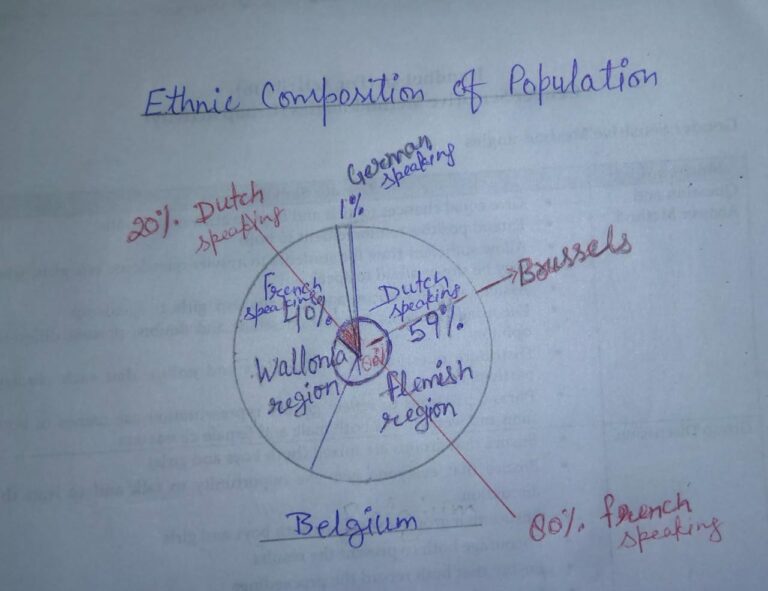 Ethnic tension in Belgium
Economic inequality between the Dutch speaking and French speaking.
At the capital city of Brussels the French speaking community was relatively rich and powerful and used to get the economic and educational benefits.
Accommodation in Belgium – Belgian model
(Power Sharing in Belgium)
The constitution amended four times between 1970 to 1993.
Equal representation to both Dutch and French in the Central government.
The central government shared its power with the State Government.
Brussels has a separate government in which both the communities have equal representation.
There is a third kind of government, This is  called "Community government". This government has the power regarding cultural, educational and language related issues.
Ethnic composition of Sri Lanka
Sinhala 74%
Tamil speakers 18% (Hindus, Muslims, Christians)
Indian Tamils 5%
Native Tamils ( Sri-Lankan Tamils) 13%
Others 7%
 Christians both Tamil and Sinhala
Muslims 1%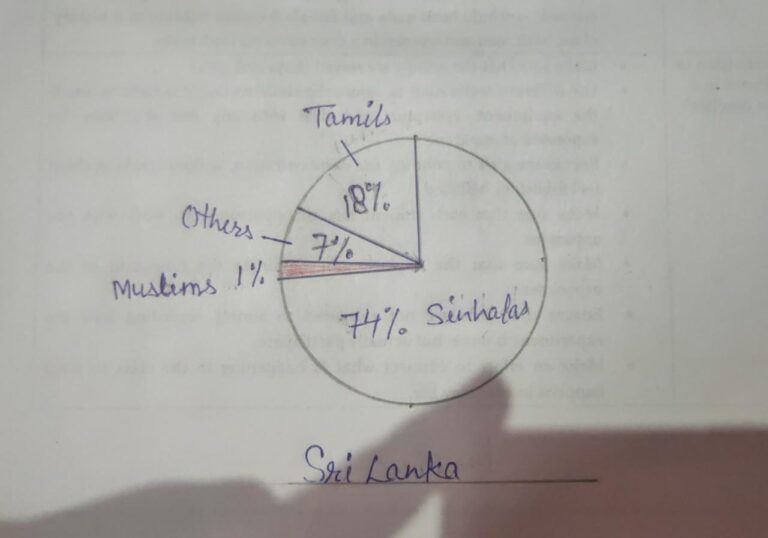 Reasons for "the Alienation" of Sri Lankan Tamils
After independence in 1948, the democratically elected Sri Lankan Government adopted a series of majoritarian measures to establish Sinhala supremacy by passing an act in 1956.
Definition of Majoritarianism
It is the belief that the majority community should be able to rule the country. In simple words, Supporting the dominance of majority over the minority.
Majoritarian measures of Sri Lankan Government
Sinhala as the official language.
Preferential policy for Sinhala applicants.
Buddhism as the National religion.
Demands of Sri Lankan Tamils
Recognition of Tamil as an official language.
Regional autonomy
Equality of opportunity in securing education and jobs.
Civil War
In order to protest for their demand they started a political struggle in the way of conflict with the government.
By 1980s ,several political organisations were formed demanding and independence Tamil Eelam( state) in Northern and the Eastern part of Sri Lanka.
The distrust between the two communities turn into widespread conflict, it soon turned into a Civil War.
Result of Civil War
Thousands of people of both the communities were killed
Many families were forced to leave the country as refugee and many more lost their livelihood.
After the Civil War, the Sri Lanka suffered from an economic crisis.
Why Power Sharing is Desirable
a) Prudential Reasons
Avoids conflict.
Ensures political stability.
Majority cannot rule over minority.
 b) Moral Reasons
Spirits of democracy.
Ensures legitimate government.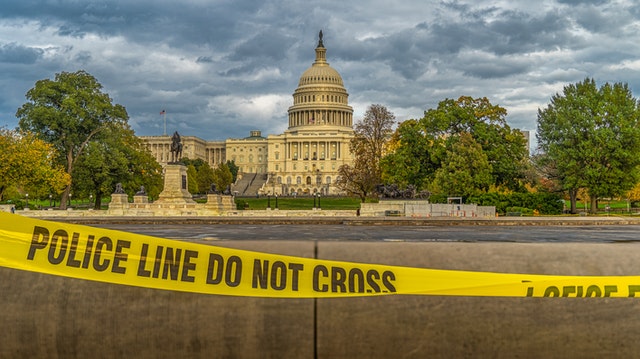 Forms of Power Sharing
a) Horizontal distribution of power
Legislature
Executive
Judiciary
b) Vertical division of power
Union government
State government
Local government
c) Power shares among different social groups
Religious
Linguistic
Gender
d) Power sharing arrangements can be seen among the "political parties, pressure groups and social movements". They influence the government on the decision- making process.
Conclusion
Power sharing is desirable because this arrangement ensures the promotion and protection of cultural, social and linguistic diversity