Note: Proceed further only if, you are not judgmental.
This was the story narrated by grandmother!
So, this story is the most repeated story on demand from us, which my Dadi (Grandmother) used to tell us.

There lived two brothers ,Suddha and Banga with completely different traits, along with their very old mother.
Suddha was very kind, innocent and away from deception and wickdness, whereas Banga was completely opposite of Suddha,he was clever, wicked, and a very deceptive person. On the basis of their behavioural quantity, both were given equal responsibilities, Suddha has to take care of his mother and manage all the household chores. Whereas, Banga was a shepherd and had to look after the livelihood (money).
So once, Both of them, agreed to exchange their duties, Banga would take care of old mother and other household chores, and meanwhile Suddha, has to look after the sheeps and livelihood!
So, This was agreed!
Suddha went to the nearby rich landlord, for job as personal assistant and the wicked landlord, made him sign a deed, under which, Suddha would be staying with him 24×7,has to manage all the assign tasks, and in return the landlord would be arranging his food and accommodation, and made it a point that if breach of the contract is done in any circumstances by Suddha, he shall be taking hold of all the possession, as a security and would also cut his nose and ears too.
Suddha, signed the contract without even knowing the terms and conditions! And joined landlord. Suddha worked really hard and in return the wicked landlord and his wife, provided him insufficient food,upto the size of a  small Diya! 🪔 Things didn't worked like this, due to insufficiency of food and thus Suddha lost all his sheeps and returned back without nose and ears.
On the other hand, Banga in full of love for the mother, insisted her for bathing in winters, even mother agreed too and thus Banga kept the water on boil, tragically it was excessive hot! And Banga made her old mother, bathe with the same, and his mother died. Banga informed his brother Suddha of the same, and Banga was full in the mood of Revenge knowing of the loss and his brother being cheated.
When Suddha got information about mother's death, he was very sad.he went to arrange for the priest for funeral. Meanwhile Banga gathered all the dried leaves and twinges and burnt the body along with it.
In order to, reduce the society disgrace suddha arranged a funeral feast what we called (Terahi ). But a condition was imposed by Banga ,he said, eat as much as you can, but do remember to submit all the plates, everybody agreed to the condition, but here comes a twist, when Banga gave pattals to sit as well as to eat, but the pattals he gave to sit, on which he applied glue, which stick on the hips on the guests.
Fr kya tha….. Banga started, beating all his guests and accused all of them as thief. Due to this, villagers threw them out of the village and now Banga had to take revenge from landlord, so he went, to the same landlord as to apply for the same designation, he was even hired but this time,he asked landlord that he want food on leaf,. landlord thought a leaf as a trifle and a penny , and if any party of the contract, breeches it,has to cut his ears and nose and has to compensate with his possession. So, both the landlord and Banga simply, agreed to the terms and conditions and Banga joined from the very next day.
So, Banga worked really hard, and as per the condition, he brought banana leaf to be served  food on.Landlord didn't bothered much for the first day, but did his wife, because she was farsighted and got institutions, But didn't alarmed her husband. But soon her institutions begun to frame the reality, and it turned a big problem to arrange for food for Banga.
Meanwhile, Banga after having his meal, shared the remaining with Suddha.
And Banga too was double crossing the landlord, and indirectly was the reason for the loses incurred by him.
The situation went on detoriating. Thus, it was planned of landlord and his wife, to let's escape from this, and go to his in- laws house, thus they would be avoiding Banga and his contract too.so landlord asked his wife to pack all the essentials and some food for the journey.
Meanwhile Banga eavesdropped, and hid himself in the same trunk, which landlord has to carry all the way throughout on his head.
Next morning, when they started their journey, landlord found the trunk pretty heavy and asked his wife,she answered it's all the essentials, some Jewellery and food for the journey. Landlord doesn't bothered much, and carried the trunk all the way on his head,
Since Banga was hidden in the same trunk, he ate all the food and also, went ahead with nature's call (urine) in side the same, as landlord was carrying it all the way on his head, on leakage of some liquid, Which slipped to his lips, he tasted it and complimented his wife for the delicious food packed by her.
Soon after some time, both of them took a break to have some meal on completion of half of the way.and surprised themselves, with Banga sitting inside it.
Landlord and his wife didn't know, how to confront him, as they even couldn't back out from the contract, so they said they had some emergency in his in-laws and thus, they didn't informed anyone.
Banga being aware of all the plot, giggled inside and then asked his lord, to permit him to go sometime before they reach and inform the in-laws to make proper arrangements for them.the couple agreed for the same.
Thus Banga went ahead, and reached before and told everyone that landlord has not been well and have upset stomach, so doctors have asked him for a meal full of dia.
When landlord reached with his wife everybody greeted them warmly, and took care of every requirements they had, except the food for landlord. The situation was critical for landlord he wasn't able to ask for more at  his in-laws due to hesitation and was hungry too.so he called Banga and asked something to eat, Banga gave him a huge pot full of peas and said this was all he can do for . so hungry landlord ate up all the peas and refilled the pot with the peels of the pea.
Due to excessive consumption of uncooked peas, this time he actually had upset stomach, he had multiple loose motions at odd times, he asked Banga to help, and Banga told to use the same pots in case of odd time loose motions and before sunrise, throw away before anybody knows about it. Landlord agreed to the same, and before sunrise, he carried the same on his head and marched towards jungle, meanwhile Banga again got a chance to embarrass him, and he redeemed it too.
He told everyone at his in-laws that, Because of the ignorance and insufficient meal, landlord got offended, and has left the place. Everyone at the place, in-laws and villagers along with their stick went behind landlord, landlord got scared and  banged the pot on the way, all the peels and his fecal discharge got smattered all over and disgraced landlord .
landlord and his wife, being so much disgraced, at in-laws decided to leave the place, and even confronted Banga with breech of the contract they signed.
Thus, as promised Banga took over half of the property of landlord and also cut his ears and nose as a revenge of his brother Suddha and made him realized, that they took advantage of his innocency.
Visit Us for read new and amazing articles.
For sponsor any article or your own article you can mail us with your logo ready and all the details.
For free and amazing images, Visit Pexels and give credit to appreciate their work.
So, here's the happy ending of the story!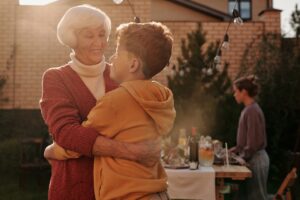 this is my last blog before my examination, and here I'm releasing it on 9th March, the same day an year ago, my Dadi (Grandmther) got expired. Thus, you can simply admire, how amazing she was. I simply can't describe her with my words.
Your memories are still alive inside me, and the sole motto of sharing this story with everyone, is to just make it Unforgettable one.❤️
So, here I would request all the readers to please mention the moral of the story in the comment section below 👇