This post is the precise notes of class 10 Geography chapter 3 notes
Water Resources notes by Vibha Maam
The three-fourth of the earth's surface is covered with water but the proportion of freshwater is very small. Fresh water is mainly obtained from the surface runoff and groundwater. It is continuously being renewed and recharged through the hydrological cycle.
Then how do we suffer from water scarcity? What are the reasons behind the water scarcity?
Low rainfall,

Varied availability of water resources,

Over exploitation,

Excessive use and

Unequal access of water

Industrialisation

Urbanization

Pollution
Aspects of water scarcity
Quantitative aspects of Water Scarcity
Water scarcity may be an outcome of a large and growing population. The consequence of the large population is greater demands for water and unequal access to it. A large population means more water not only for domestic use but also to produce more food.
Most farmers have their own Wells and tube wells in their farms for irrigation. it may lead to falling underground levels. The lack of underground water adversely affects water availability and food security of the country.
The increasing number of industries has made matters worse by exerting pressure on existing freshwater resources. Industries apart from being heavy users of water, also require power to run them.
Most industries have their own ground water pumping device to meet their water needs. water resources are being over exploited and have caused their depletion in several of these cities.
Qualitative aspects of water scarcity
Where water is sufficiently available to meet the needs of the people, this scarcity may be due to bad quality of water. It is hazardous for human use. It may be polluted by domestic and industrial waste. Chemicals, pesticides and fertilizers that are used in agriculture are also responsible as well.
Conservation of water resources
Water can be conserved by building dams, reservoirs, embankments and canals. To prevent the degradation of our natural ecosystem, over exploitation and mismanagement of water sources, to safeguard ourselves from health hazard, to ensure our food security we should conserve and manage our water resources. s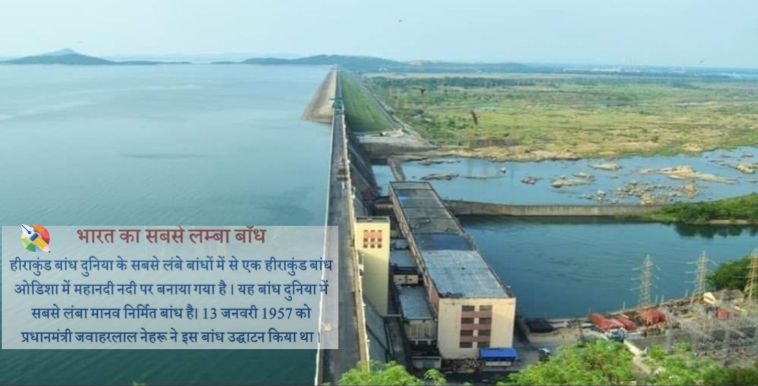 Multipurpose river projects
Some major multi-purpose projects: –
Damodar Dam 
River- Hugli
State- Jharkhand & W. Bengal
Bhakra- Nangal Dam
River- Satluj-Beas
State- Himachal & Punjab    
Hirakud Dam
River- Mahanadi
State- Odisha
Tehri Dam
River- Bhagirathi & Bhilangana
State- Uttarakhand
Nagarjuna Sagar Dam
River- Krishna
State- Telangana
Kosi Dam
River- Kosi
State- Bihar
Tungabhadra or Pampa Sagar Dam
River- Tungabhadra
State- Karnataka
What is a Dam?
     A dam is a barrier across the water river  to hold back water and to control the flow of water by creating a reservoir, lake or impoundment.
Classification of Dams based on Structure and Materials
Timber dams

Embankment dams
Masonry dams
Advantages of Multipurpose projects
Dams are built not only for irrigation but also for generating electricity, water supply for domestic and industrial uses, flood control, recreation, inland navigation and fish breeding.
     For example, the Bhakra- Nangal project over Satluj- Beas river basin is being used for electricity production and irrigation. Similarly, the Hirakud project against the Mahanadi basin integrates conservation of water with flood control.
Jawaharlal Nehru proclaimed "the dams are the temples of modern India."
Disadvantages of multipurpose projects
High cost of construction

Restricted natural flow of water
Excessive sedimentation
Bad habitats for the rivers aquatic life difficult for aquatic fauna to migrate submerge the existing vegetation
Loss of land
Water borne diseases
Salination of farmland
Excessive use of water
Increase earthquake intensity
Land degradation
Extensive soil erosion
Cause of flood
Social Movement and opposition against Multi-purpose Projects
     Multipurpose projects and large dams also have been the cause of many social movements  like 'Narmada Bachao Andolan' and 'Tehri Dam Andolan' etc., because these projects have created large scale displacement of local communities. local people often had to give up their land, livelihood and the meager access and control over resources for the greater good of the nation.
Who benefits from these projects?
The land owners

Large farmers
Industrialist and
Few urban centres 
      It also creates a  deep social gap between the rich landowners and the landless poor.
      Dams create conflict between the inter-water state.
How to conserve water  or water harvesting
     Rainwater can be conserved by the harvesting system. water harvesting system in mountainous region people built diversion channels like Guls or Kuls.
    Rooftop rainwater harvesting was commonly practiced in Rajasthan.
    Khadins in Jaisalmer and Johads in other parts of Rajasthan.
    The underground tanks or tankas are used to store water in Bikaner.
    Tamilnadu is the first state in India which has made rooftop rainwater harvesting structures compulsory to all the houses.
Need for Rainwater Harvesting
Sustainable development

To improve ground water quality
To reduce decline in groundwater levels
To overcome the shortage of water
To enhance ecology by increasing vegetation cover
Rooftop water harvesting is the most common practice in Shillong.
Shillong, capital of Meghalaya, faces an acute shortage of water whereas, Maghalaya receives the highest rainfall in the world.
Gendathur, a backward village of Mysore, Karnataka has earned the distinction of being rich in rainwater harvesting.
Share this note with your friends and classmates and also comment in the comment section below.
For Nobles and books at affordable price you can checkout Checkfirst