This is the second part of the story Bola tha na gadi mat rokna written by Apoorva, this post is purely a imagination based story. Leave your comments in the comment section below and tell us how you feel about this story.
Ishika or varshit ki life me problem TB shuru hui jb se unhone sarak pr ek anjaan ldki ko lift DIA…..
Ishika ko HR jgh vhi ldki nzr aane lgi thi…. pr shukr is bat ka tha…..ki abhi tak ,Kisi trh ka  koi nuksaan NHI phuchaya tha Usne!
Kon thi vo ldki? Jise ishika or varshit ne lift di!
Or kyu vo is trh…unhe bar bar HR jgh dikhai de rhi thi?
Kya kisi tarah ka koi connection tha???
Us rat fir se vhi chehra dekha or, or fir vhi bat (Bola tha na gadi mat rokna) sun kr…….. Ishika ki dar se cheekh nikl gyi……
Ishika ki, jb dubara ankh khuli to, dekha varshit ne use Apne seene se LGA rakha tha or uska hath pkde hue tha. …or bar bar ek bat smjhae ja rha tha…ki Jo Ishika ne Dekha vo bs mehz ek Bura spna tha…..pr Ishika janti thi….ki ye sirf ek Bura spna nhi tha…….. Varshit ne ishika ko Pani DIA or thodi der idhr udhr ki Bat krna k bad, dono so gae.
Ye bat ayi -gyi, ho gyi! Kuch Dino bad, ishika ki choti behn Pari,Usk ghr aai.
Usne notice kra… ishika Kisi uljhan me h…or thodi pareshan BHI….Usk lakh puchna k bad Ishika ne usko sb Kuch BTAYA….us highway wali rat se le kr…..us bure spne tak!
Pari kafi modern or open minded ldki thi…..
Pehle to usne…. apni behn ko jada horror movie na dekhne ki Salah de Dali,……or fr Usk mn ka vehm bta kr……..
use jiju k sath Jada time spend krne ko kha!
Pari ko aae hue…3-4 din hi Hue the!
vo…munne k sath khel rhi thi… tabhi achanak boli" Di! Jra munne ka doodh le aao"
Ishika, javab deti hui boli…."bs, abhi lai!"
Or, munne ki doodh ki bottle, pari ko de AAI!
Tabhi achanak Pari ko yad Aaya, Di to AJ jiju k sath movie dekhne gyi thi!
to fir?????
Vo munne ko walker me baitha kr, kitchen ki trf bhagi to Dekha! Vha koi NHI tha…
Usne poore ghr me dhoondha….pr pure ghr me Usk or munne k alava koi NHI tha!
Usko Apni ankho par, zra BHI vishwas NHI hua…ki abhi Kuch der pehle Jo ishika usko doodh ki bottle de gyi…. vo ab vha KHI NHI thi..
Pari VAPAS Room me aati hai…or ye Dekh k uska dimag ko……fir SE jhatka lgta …. hai…… ……..ki munna ko to vo walker me baitha k AAI thi….pr ab vo bed pr Apne khilone se khel Raha tha!
Pari, kafi pareshan hui….or ab KHI na KHI na Chahte hue bhi, uska MN somewhere, Ishika ki btai hui chijo ki taraf ja rha tha!
Pehle sirf Ishika ko hi vo dikhai deti thi,pr ab uski choti behn Pari, BHI usko Dekh pa rhi thi!
Ishika or varshit k shopping prse, vaps aane k bad…. Pari Kafi hairan pareshan thi..
Dono ne janna chaha to Pari ne Bola
"Kuch NHI Di! Vo college ka assignment thoda Jada hai to thoda usi ki vjh se stressed Hu"
Ye sun kr.. ishika ne BHI Jada force NHI kra…pr ab Ishika k alava Pari BHI use ghr me mehsoos kr skti thi….
Kuch din, bad Pari Apne jiju or di ko good night bol kr , light off krk sone hi ja ri thi…ki usne dressing table k sheeshe me…ek parchai Dekhi,mano koi ldki khdi h Usk samne….. Pari lgatar…use bade dhyan se Dekh ri thi pr Jaise hi usne light on kri….vha koi NHI tha.
Usk Kuch din bad, Pari VPS Apne ghr aa gyi or ghr phuchte hi..usne Kuch purani school album nikali………….
Or  Ishika ko text kra "Di ,I think…. she's back!"
Ishika Kuch smjh nhi payi…pr fir kisi kam me busy… hone ki wajah se……. Pari se iske regarding baat hui NHI kbhi fr……,
Ek din ki bat h… ishika Apne washroom me NHA rhi thi ki tabhi achanak use sheeshe me vhi muskurata chehra dikhai DIA Jo thk Usk left side khadi muskura rhi thi….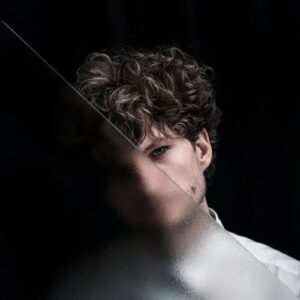 Ishika jase hi VAPAS mudi, dekhne k liye tb tk Usk sar pr….ek zordar…hamla(attack) Hua or….jb aankh khuli to….uski unglio me betahasha dard ho rakha tha.. uski Dono hatho k unglio k nakhoon ek dum toote or ghise hue the…or unglio k sire buri trh…. Ghise hue the …khoon se…..sane hui unglian Dekhi….to jaise ki dard ek bar fr se ubhr gya……. …..
Bathroom ki ceiling …or………..diwar khoon se rangi hui..  thi…… Mano Apni unglio… Ko..  Ghis k Likha ho….or sheeshe pr khoon se Likha tha…
"Bola tha na, gadi roki to Acha NHI Hoga"
Ishika hospital se VAPAS AAI to, Varshit pure time Uske sath tha…. Ishika k hatho pr…. moti moti Pattian bandhi hui thi,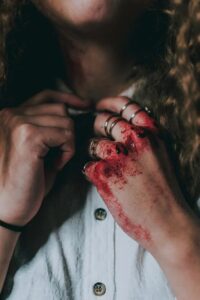 Is bar…… Varshit jase Mano, Puri tarah, aag baboola ho Gaya or… bolna LGA….
"Hai  kon ye? Kyu pdi h… hmare peeche? Kya bigada h hmne  tumhara?…… or ye Bolte Bolte Varshit, fut fut kr rone LGA…….. Ishika to Jaise patthar ki ho chuki thi….
(Pari vhi khadi sb Kuch Dekh rhi thi…..)
Is incident k bad….Usk Dil or dimag ko puri tarah jakhzor DIA tha ,vo Jaise sadme me chli gai thi…or pari ek bar fr uski Dekh bhal krane aa gyi….thi
Pari, is bare me Ishika se Kuch bat nhi krna chahti thi, or itna sb hone k bad, Varshit BHI kafi disturb or khicha khicha rehta, vo introvert hota ja rha tha…..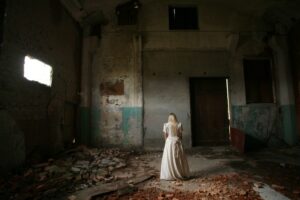 .
..
…
Pari or ishika same school me the or dono k kafi common friends bhi the…..
Pari ne Apne Kuch common friends se pucha to… Kuch purani yade taza ho gyi!
School days ki bat h…jb bachpan me Ishika, uski behn Pari k alava Kuch or dosto ne mil kr…..ek ldki ko bulley kra tha … …….. bachpan ki bat thi…. smay k sath bhool chuke the sab……
Lekin  bullying ki vajah se vo ldki (Akansha), depression me chli gai or….ek din Kisi road accident me uski death ho gyi!
Us din,us road accident me agar Chahte to Akansha bch jati pr…..
Drink krke drive krne vale Kuch ladko ne.. Apni gadi se Usk upr chadha Di thi….vo buri trh jkhmi thi
Or vo,ldke Nashe me ….ek  hi bat bar bar dohra rahe the….
"Gadi roki to Acha NHI Hoga" Bhai chl! Bhai bhag chl! Or un ldko ne police k dar se,us ldki ko usi halt me sarak pr Chor k bhag gye..
Ye SB pta chalne k bad, ishika or Pari dono, somewhere guilt feel kr rhe the….. Akansha k ly,or uski death k  liye.
Ishika or Pari k Kafi dor-dhoop k bad un ldko ko jail hui….or Akansha k murderers ko sza mili.
Ab ishika or Pari kafi Khush h…. Or mentally relaxed BHI…..ab Kabhi BHI Akansha ya…uska vo chehra NHI dikhai deta.
Stay tuned for more poems & articles like this.
For sponsor any article or your article you can mail us with your logo ready and details.
Visit Pexels for amazing and free images.
Call them for office shifting, home shifting, relocation on your fingertips. They are experts packer and mover their main office based at Varanasi location and serve across all the major cities all over India.