It is one of the most recent incident , when me and my friends decided to have our day out Assi Ghat, not having a single thought of Camel Ride yet (on the bank of river Ganga, in Varanasi). So, the usual mellow drama, which happens in every group,("abba NHI manenge"🤞) happened with Ishu, where her mom strictly denied, due to the family trip on the very next day.
Initial plan
Since, in a group of three idiots, one's permission is cancelled, so we had two options, either to any how grant permission from aunty (Ishu's mom) ,or she may give any fake excuse! But in second case, the things would get much messed up! So we worked on plan 1, to convince her mom.
So, it was decided by us, that me who was asking them (friends), go to Vishwanath temple, from long ago, executed my plan! On 25 Jan,!, Ritu, the other one, who lives near my house, stated the above reason of, Vishwanath temple!, and we took name of Baba Vishwanath, to get the permission from aunty Ishu's house.
Hopefully, we managed to get permission from aunty, had delicious white sauce pasta made by the kitchen of sweet and sour!🤤🤤🤤, and took Ishu with us.
Get Set Po! Camel Ride we are coming!!!!
All of us were extremely delighted to get the permission, and headed towards Assi Ghat!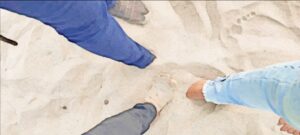 Which was 15 min journey from her house. We decided to go on the other side of the back, where camel and horse rides are available, I already told both of them, I would scream ,because I love screaming when I enjoy. So, did we reached.
Booked a boat, and went on the other side, we were too excited, looking at so many horses and camels 🤩!, I realized since we were so bewildered to see them, even they (animals)must be thinking, where are these creatures from??😝😝, their owners started offering us, for the camel ride, but we had enough of time for, gossip, photoshoot, dancing, mimicking, etc. This generally happens when you are with some un-judgmental people, who are equally crazy and mad like u.
So, we took off our shoes, and started having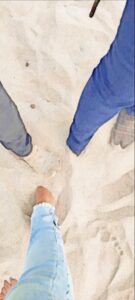 a race without any endpoint, me and Ishu shares equal vibes and were running like stupors on the sand, whereas Ritu was cursing us, because she wasn't able to run on sand. So , after all this stupidity, as like every time, our selfie queen Got reminded and in no time we over bombarded our gallery with tremendous photographs 😂😂, and meanwhile dancing on our favourite track, completely unbothered about our surroundings.
Here comes it!
After we were done with all that, and literally waiting for too long, I stood up and started pulling both of them, for camel ride. Ritu, wasn't ready for it, or maybe she was afraid 🤷! ,So me and Ishu sat on its back! It was too amazing!………. like since childhood..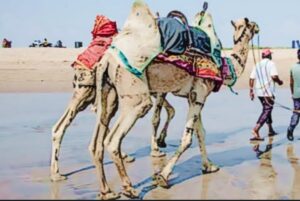 It was first time, I was sitting on the back of someone 😝😝, earlier use to be bhaiya usually become horse to get rid of annoying sis🤪, but then the twist come!
Camel stood up, and it felt like the one sitting on it, would fall by his/her face, Ishu was sitting behind me, for a better grip on me,… and I was so much overruled by my excitement that sat on it!!! The moment camel stood up, I shrieked out a loud scream, and both Ishu and camel turned scared by it. I wasn't able to control myself and was just screaming and laughing madly. Camel started taking his steady steps, and I asked Ishu, that where it might store his water 🤔🤔, when Ishu, asked me not to focus on his biology 😝🤣
On sitting on his humpy and bumpy back, the entire world seems so minute, and microscopic. We could see too many couples cuddling among themselves 😝, and We were giggling and making fun of them, when suddenly, my eyes struck on a group of 3-4 girls in which one girl was may be with her fiance or boyfriend! And were posing typically 😂, I asked Ishu, let's start hooting and disturb them 😝😝🤣.
And it was just my end of the statement when my crime partner joined me, and we succeeded ✌️🤩🤩🤩, the couple felt awkward 😝😝😝,but, I AM COMPLETELY NOT SORRY! We did that intentionally 🤣🤣,camel must be enjoying with us, as knowingly or unknowingly he was also with us.✌️😝. And then from that point, camel took a turn and reached at the starting point, and it was a time again for a mini heart-attack to me as he was going to sit on his knees…. ofcourse not for proposing….but to charge from us!
It was the time for us to get down, so the moment he took a hault, Ishu tried to passifying me…."look ,relax!!! BREATHE IN… BREATHE OUT…. he's gonna sit", but nothing did work, I again, shrieked out a cry, and then get off!….
It was really a wonderful experience, with camel! But I would go for horse next time 😜